Well, it's Wednesday again, time for the weigh-in.
I joined a challenge over at Shrinking Jeans.  The Challenge is called: Spring Fling Challenge . My Team is called : PIGS WILL FLY !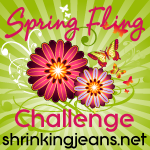 I have not been doing much this week, except trying to eat healthy, so it figures I only lost 1. 1/2 lbs.
Starting Weight: 177.3 lbs
Last Weeks Weight: 172.4
This Weeks Weight: 170.9
Change: –1.5lbs
Total Loss {since Jan 2010}: 18.1 lbs