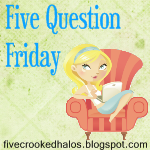 1. What are you most afraid of?
Something happening to my kids or family. I also have a love/ fear of tornadoes.
2. Do you use a flat iron or curling iron?
Neither .. lol I think a flat iron is just too much work.
3. Hands-free or phone to the ear?
Phone to the ear or speaker. Having previous lived on base, I don't really like driving and talking on the phone at the same time.
4. Do you have a matching bedroom set?
No, I don't. I would like to get one now that we have bought a house and won't be moving as often. Heck, I work for a furniture broker.
5. Do you believe in the paranormal?
Yes I do somewhat. I
think those who has passed on still have a way to connect with us and influence things we do.